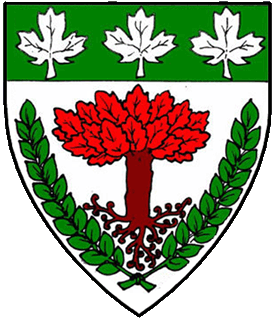 Myrgan Wood, Barony of
Argent, an elm tree eradicated proper, leaved gules, within a laurel wreath and on a chief vert three maples leaves argent.
Notes: Saskatoon, SK
Date added to Roll: July, 2002
Date Registered to Laurel: October, 1983

Source/Artist Credit: Frederic Badger

This entry is now on the new Kingdom of Avacal's roll of arms.
Please click here to view on Avacal's Roll of Arms.
Browse the Roll for Myrgan Wood
Baron
Fjall Ljotrsson

Baroness
Isabelle Buckells