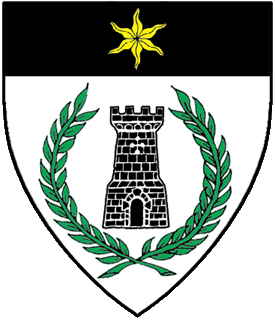 Bordergate, Shire of
Argent, a tower sable within a laurel wreath vert, on a chief sable an estoile Or.
Date added to Roll: June, 2006
Date Registered to Laurel: February, 2006

Source/Artist Credit: Frederic Badger

This entry is now on the new Kingdom of Avacal's roll of arms.
Please click here to view on Avacal's Roll of Arms.
Browse the Roll for Bordergate