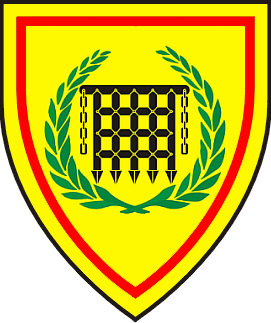 Valley Wold, Shire of
Or, a portcullis sable within a laurel wreath vert within an orle gules.
Notes: Moose Jaw, SK
Date added to Roll: March, 2002
Date Registered to Laurel: January, 1993

Source/Artist Credit: Symmonne Deccarrete de Villette

This entry is now on the new Kingdom of Avacal's roll of arms.
Please click here to view on Avacal's Roll of Arms.
Browse the Roll for Valley Wold
Populace badge for Valley Wold, Shire of